WELCOME TO AJC-TAI CHI & QIGONG

Founded in 1998

Current venue for indoor Wednesday classes at
Charterhouse Rd, Orpington, Kent BR6 9EP
(Located on the R7 bus route)

Contact: ajctaichi@sky.com or call 07833365160

-------------------------------------

Tai Chi & Qigong / Chi Kung

Tai Chi is a highly effective therapy for many injuries or chronic conditions, whether mental, emotional or physical.
Tai Chi bolsters the immune system.
And it can actually eliminate problems long before they become an actual physical illness.
Tai Chi comes in many styles

Tai Chi is practiced by about 20 percent of the world's population

and is fast becoming the most popular exercise in the world today.
Its rapid expansion is largely due to one important fact it feels really good.
Although Tai Chi was originally a martial art and is increasingly offered by martial arts studios,

it's now practiced

i

n sports, businesses, hospitals
and schools everywhere.
Tai Chi is not only a valuable tool for improving health, it is a powerful business tool as well.
Companies see that Tai Chi improves productivity by helping employees to be happy, relaxed, and creative.
Hospitals see Tai Chi as a potent, yet cost-effective

, therapy for any condition.
Health and Fitness:
One of the main things that people always say to me is that they just don't have time;

The modern-day short form of Tai Chi allows anyone who has a tight schedule to enjoy the benefits and practice of great art.
The beauty of learning the short form is that you can practice this any time, anywhere without the need for a massive practice area.

The Chi circulation and breathing exercises can be done both seated and standing.
Tai Chi: Tai Chi is an ancient Chinese martial art renowned for its health benefits, originally taken from the fighting style.

This was then broken down into a slow-moving routine.
It is now focused on the health benefits of carrying out a regular routine of movements that keep joint supple and overtime strengthening the body.

Qigong: Qigong (pronounced chee-gong) is an ancient practice, originated in China about seven thousand years ago.
This was for the cultivation of Qi (Chi) or vital energy. Qi/Chi, as in Qigong/Chi Kung, which literally means "life energy".

Is the animating power that permeates the universe and all living things: no life could exist without it. Also, Qi/Chi has the power to heal the body and mind.
Mindset:

We have a never give up attitude to getting it right & you having fun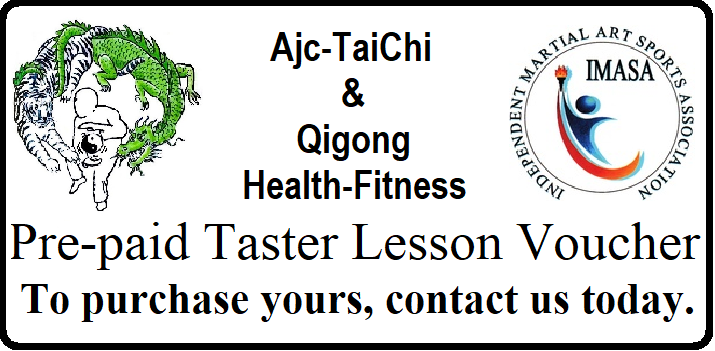 Taster sessions available on selected dates.

For more information, please contact us by